Our Tennis Club offers private Junior Tennis Lessons and group Junior Tennis Lessons.
Private Junior Tennis Lessons
Private Junior Tennis Lesson Details and Application
Group Junior Tennis Lessons
The Pathway to Success program utilizes the United States Tennis Association (USTA) sanctioned Red - Orange - Green - Yellow (ROGY) progression for tennis.
The goal of the program is to introduce children to tennis using the proper balls, racquets and court sizes for learning proper techniques tailored to your individual child. the system provides a proven way to ensure "Good Vibes Only" while your child has fun developing as a tennis player. The Pathway to Success program provides a clear path to achieving your child's goals for advancing through the ROGY system.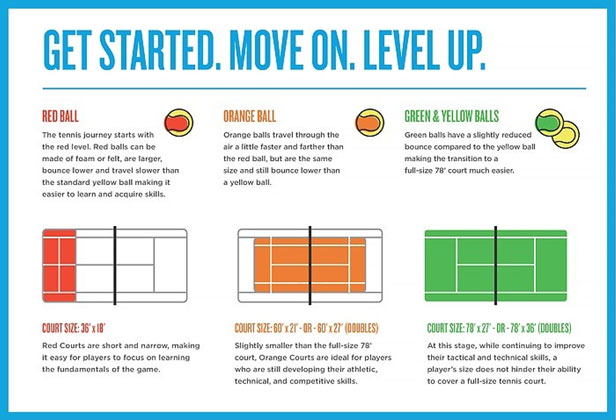 ROGY Tennis is a National Program developed by the USTA that serves as a guide for coaches, parents and players to provide a clear path for kids to participate in events using the appropriate ball and court for their age and skill level.
The size and pressure of the ball along with the size of the court is the basis for each level of the program. This proben format was designed to help children improve faster, master skills, build confidence and have fun.
By using this format, the benefits are immediate and within a short time kids are rallying, playing and excited to keep playing.
Group Junior Tennis Lesson Programs and Applications
Our Tennis Club offers Group Tennis Lessons for Juniors. Group Tennis Lessons for Juniors are group lessons where beginner players work on the basic groundstrokes, volleys, overheads and serves. The more advanced junior will fine tune their basic strokes plus learn more about point play and strategy. Players can form their own groups, but may sign up on their own and we will place you. Group Tennis Lessons for Juniors are offered on weekdays after school or any time on the weekends.
Our programs introduce young tennis players to the game of tennis in a fun and interactive manner. This allows all of our players to progress through the game and enjoy their time on the tennis court. We offer the appropriate balls, equipment and court size to encourage immediate success, no matter what level or experience.
Junior Development Programs